Christian Patriotism
PART I: HEAVEN'S CITIZEN IN WORLD
PART II: SEPARATION THROUGHOUT BIBLE
Christian Patriotism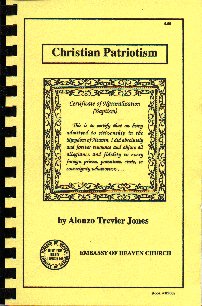 Are you a Christian Patriot?
What is Christian Patriotism? Patriotism is love of country. And the country that we love is the country of our birth. Christian Patriotism is the love of the country of the Christian's birth. The Christian birth is the new birth. It is the being born again, born from above. Where then is the Christian's country? Heaven is the Christian's country. This book establishes our biblical foundations for our citizenship in Heaven.
Click on the side links to read this book online.
Click here for 4 part
Radio Broadcast of "Christian Patriotism"
Want your own
copy of this book?
Order your own copy today!
Catalog #B3002